( Please check before manufactiring large door from plywood)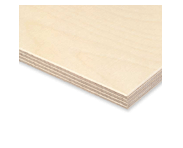 WISA-Birch is made using 1.4 mm thick birch veneers. It is used where good strength properties are needed and is beautiful in appearance. Main end uses are vehicle floors, furniture, an overlaying panel, indoor lining and panelling of public buildings. We can slot and perforate as required. When using this product to produce large doors, please advise us prior to ensure all concerns are answered.
Please Note: Not all sheets sizes and finishes are available here in Sydney, Brisbane and other parts of Australia. Please check first!
WISA product suppliers: Birch

Product description

WISA-Birch plywood is used e.g. in furniture, transportation, construction and joinery industries.
Bonding

Phenolic resin cross-bonded weather resistant glueing according to EN 314-2/class 3 (DIN 68705 Teil 3: BFU 100; BS 6566 Part 8: WBP).
Surface

Face veneer qualities as per SFS 2413 (Quality requirements for appearance of plywood with outer plies of birch).
Machining

Edge and CNC machinings available on request.
Design information

Thicknesses and weights

Nom. thickn. mm

No. of plies

Min. thickn. mm

Max. thickn. mm

Weight kg/m2 approx.

Scarfj. panels

Thickn. min mm

Thickn. max mm

6.5

5

6.1

6.9

4.4

6.0

6.8

9

7

8.8

9.5

6.1

8.7

9.5

12

9

11.5

12.5

8.2

11.5

12.4

15

11

14.3

15.3

10.2

13.8

14.8

18

13

17.1

18.1

12.2

16.6

17.6

21

15

20.0

20.9

14.3

19.5

20.5

24

17

22.9

23.7

16.3

22.3

23.3

27

19

25.2

26.8

18.4

24.7

26.3

30

21

28.1

29.9

20.4

27.6

29.4
Panel sizes

1220 x 3050/3660 mm
1250 x 3000/3600 mm
1500 x 1500/2400/2500/3000/3600 mm
1525 x 1525/2440/2500/3050/3660 mm
The largest scarfjointed panel size 12500 x 2750 mm
Other dimensions on request.
Size tolerances:

< 1000 mm+/- 1 mm
1000-2000 mm+/- 2 mm
2000-6000 mm+/- 3 mm > 6000 mm+/- 5 mm
Squareness tolerance:

+/- 1 mm / 1000 mm
Properties of panel surface

Face grades:

B – surface for lacquering, S – surface for painting and for coating, BB – surface for painting and for coating with thicker materials, WG – surface for reverse sides.
Strength values

As per the Handbook of Finnish Plywood. The strength of the scarfjoint abt 10-30% less than that of standard panels.
Installation instructions

Changes in the air humidity may cause dimensional changes in panels. Therefore please leave gaps between panels in installation. The boards can be worked with ordinary hand tools.
Other information

Wood being a "living material", every panel is unique. Thus a photograph or a sample piece cannot represent all the panels, as regards colours, shades, grain pattern, knots etc.
Additional information

For further information of installation, maintenance, disposal, environmental matters etc. please contact your supplier or UPM.
Amendment of specifications

The UPM policy is one of continuous development. We reserve the right to amend specifications without notice or obligation.
Liabilities

Any defects other than caused by clearly verified production or service faults by the supplier are the responsibility of the user. Any claim for compensation is limited to the value of the defected panels.
Please view if you would like to see more of our plywood products.